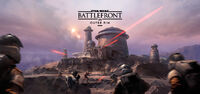 Outer Rim is one of the DLCs for the game Star Wars: Battlefront.
Description
This expansion pack will allow you to fight among the factories of Sullust and battle within Jabba the Hutt's palace on Tatooine.
Features
Quick Match and Playlists

With the release of Outer Rim, we're introducing an improved way for players to find multiplayer games quickly. As you go into "Multiplayer" now, you will be given the option of matchmaking into any 40 player mode (Walker Assault, Supremacy and Turning Point), any 12 player mode (Cargo, Droid Run, Drop Zone – downsized from 16 to 12 players) or any Hero Mode (Heroes vs Villains or Hero Hunt - which has been upped to 12 players). You will still have the option of going into matchmaking for a specific mode, map and private match as you please.
For owners of the Outer Rim DLC, we're introducing playlists as a way to experience the adventures in the Outer Rim. This playlist contains a various array of game modes, including the new Extraction mode, Heroes vs Villains, Blast, Cargo and Droid Run played out on the 4 new maps in the DLC. The playlist is for 16 players (on all modes available in the DLC) and it will take players approximately 8-10 hours of gameplay in order to go through the entire Outer Rim playlist, before it starts over.
Teamplay Focus

In order to help facilitate in-game communication between teammates, we're introducing a feature that allows players to "tag" or "focus" on any game mode objective. By looking at the in game UI-icon and pressing USE, you will let the rest of your team know that you will be focusing on that objective. For each player that focuses in on a particular objective, the number next to the UI icon increases, giving everyone in the game an overview of where the rest of the team will be going. Very useful for organizing teamplay in game modes with multiple objectives.
Spectator Mode

As part of our continued work on Private Match, we're introducing a new Spectator feature available to all players for free. This feature is especially helpful for both competitive tournament players and cinematic video makers. Spectator mode allows you to join a Private Match as a spectator where you can track players on the server in Freecam, first person and third person. It features a player highlight outline toggle and the ability to "fire" at a player from freecam to transition easily right into their point of view. We have also included a "go to action" functionality where the spectator can immediately transition to a player who's doing well enough to show up in the game mode event log (for interacting with an objective, becoming a hero or reaching the third rank of a trait). You can also switch between players using the scoreboard. We are excited to see all the new community creations players will create with this mode.
Combat Roll

In order to pay homage to the original Star Wars Battlefront franchise, we're introducing Combat Roll for all soldiers. By strafing left or right while double-tapping Crouch (on consoles) or pressing ALT (on PC) your player will roll in that direction to quickly get out of danger or surprise a foe.
Progression/Level Cap Increase

This update will also expand the level cap from a max of 50 to level 60. At the new max level, all players can unlock the Weequay customization.
Also look for new Greedo and Nein Nunb Diorama pieces to unlock.
New Trophies and Achievements

Challenge yourself to unlock 5 new trophies and achievements within the Outer Rim.
Gameplay Updates
Hero Hunt

We are introducing a revamp of the Hero Hunt mode based on feedback from the community. Instead of the rule-set where whoever kills the hero becomes the hero, the appointment of heroes will be decided by damage done to the hero. Whenever a hero is killed, a spinning "Hero Selection Wheel" will appear on the screen. The top 3 damage-dealing players will each have a slice of the wheel based on the percent of damage done. The player who gets appointed hero will have their percentage reset to 0%, while all other damage done by players will accumulate until you are selected. Once appointed hero, you will have the chance to select which Hero you wish to play as, including any DLC Hero that you own.

Heroes vs. Villains

Upon being selected to play as a hero, all players will have the chance to select which hero they wish to play before the round begins, including any DLC hero that you own (no duplicate heroes are allowed). For Heroes vs Villains in the Outer Rim playlist, the mode is for 16 players and 8 heroes active in total.
Gameplay tweaks
In order to improve the benefits of the Squad Shield and Personal Shield, shields are now capable of deflecting all projectiles. This will help defend against the usage of explosives, including grenades, rockets and homing shots. The crude microshards of the Cycler Rifle and the newly introduced Scatter Gun will still pierce shields. Don't worry, the Ion Grenade will immediately destroy a shield upon impact.
Instead of immediately being destroyed upon the respawning of a player who owns it, Droids and turrets will now stay alive for 20 seconds following the death of the owning player.
Multiplayer Team Balancing
Teams will now be reviewed at the end of rounds to ensure competitive balance.
UI Improvements and Changes
We have added a personal Match Summary screen at the end of a match, displaying your accomplishments from that round. Currently we are only showing Kills and Deaths, but much more will be introduced in the Match Summary screen later on.
Scoreboard has been readjusted to show Score first next to player names. We are now also showing Ping for all players and what state they are in – alive/dead, in vehicle or playing as a hero.
See also